With his new online bakery, a canelé-obsessed Frenchman is selling just one item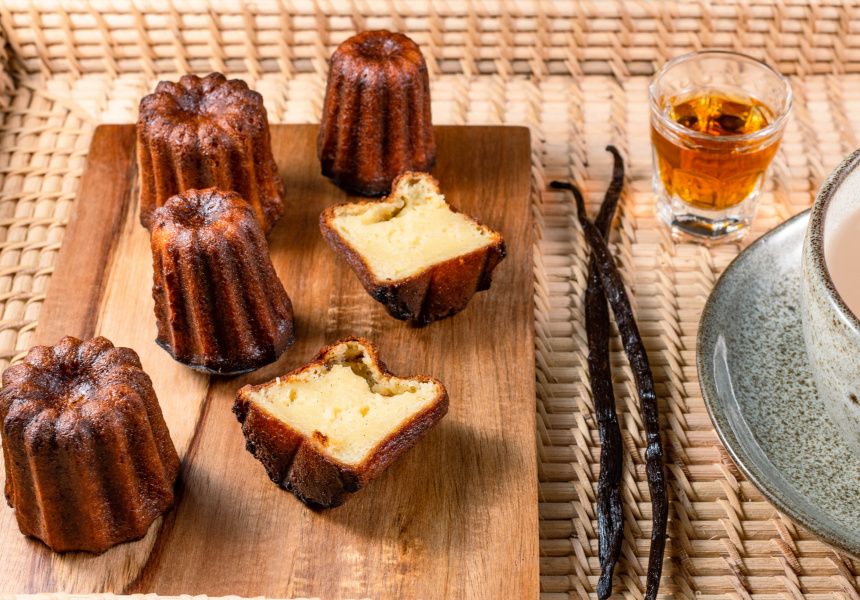 The first time Vincent Uso tried canelés was at his cousin's wedding. His uncle Alain, a pastry chef in Bordeaux, had made them, among other sweets. And the young Uso was hooked from his first bite. "I fell in love with the canelé and wouldn't even try the other pastries," Uso says. "I was just focused on the canelé and eating them all."
It was an enduring love. After the wedding, Uso asked his uncle for canelés as often as he could. "I always had canelé cravings," he says. And when he was a teenager, Uso's family moved to the other side of France, near Lyon, so he asked his uncle to send parcels full of goodies. "He sent 80 express canelés, and we put them in the fridge. He looks like they should last maybe a month, but they only lasted two days. I told my uncle he didn't cut it and asked him to teach me the recipe.
Canelés are small scalloped cakes – soft and creamy inside and sealed with a crisp, caramelized shell – originating from the Bordeaux region of France. Legend has it that they first appeared in the 16th century at the convent of the Sisters of the Annunciation. It was said that the nuns collected the flour spilled on the docks and the egg yolks left over from the vinification to make canelés and give them to the poor.
Uso's uncle's recipe is simple but specific. "It's got seven ingredients and 10 steps, and it's still on the fridge at my parents' house," Uso explains. "The piece of paper is very old now, but that's where it all started." Uso's uncle also gave him the ribbed copper molds – and he started experimenting. "It was quite difficult to handle because the dough sticks very easily to the mould. They must be greased with a brush and a liquid specially designed to promote caramelization, but at the same time facilitate demoulding. Eventually, I made it."
When Uso moved to Australia, his dream was to share his love of canelés with the country, but first he had to focus on getting his visa so he could stay. It took him seven years to become a citizen and in the meantime he was cooking for friends.
With the arrival of Covid – and everything stopped – came the perfect opportunity. "I had nothing to do but be home and start something. It started very humbly. It's still very small, but people like it very much, and I'm very happy with it. I want to pay tribute to Alain. He passed away two years ago, which is why I started the company and gave him his name as a tribute. Everything comes from him. »
Uso makes canelés to order in Melbourne (but ships nationwide – with heating instructions) and hosts weddings, parties and events. But you can also buy a few. There are small, medium or large canelés – and there's a party pack for the very serious canelé lovers. They come in the original flavor as well as a few variations: orange and Cointreau, pandan, and vegan.
Order canelés in line from $29.00 for pickup in Richmond, Melbourne or nationwide delivery.