Depositors hit the target with baked goods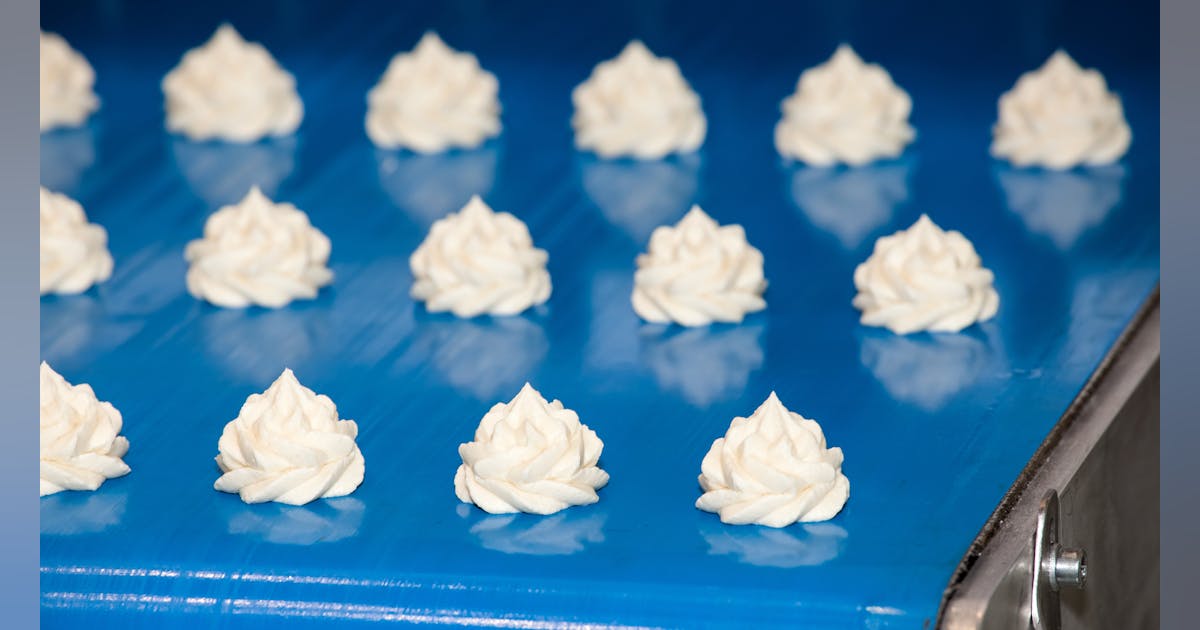 Many baked goods depend on things being filled, deposited and/or layered with precision. From fundamental components, like batter or batter landing in a tray cavity, to ornamental components, like cinnamon sprinkled on glazed buns, several stages of production depend on something that hits a target with precision.
The specification of equipment for these tasks largely depends on the nature of what is being deposited – whether it is wet or dry, its viscosity, its brittleness, etc. But with some deposit applications, it is possible to choose from equipment with different operating principles and other aspects.
Probably the most fundamental choice in filling/depositing equipment is the principle of propulsion – how the product or ingredient will move into or over the target. Two of the most common methods are volumetric filling, where the substance is pushed out of a cylinder by a piston, and gravity feeding, where it drops directly from an air hopper.
To some extent, this choice will be dictated by the viscosity of the product. Very viscous products respond better to the push of a piston, although many hoppers are equipped with augers that rotate to expel the viscous product. But to a large extent, the choice comes down to a dichotomy familiar to many aspects of food processing in general: speed vs precision.
Piston fillers tend to be more accurate simply because the cylinder provides a small, uniform storage space for the product. Piston fillers also have lower shear than auger hoppers, making them more suitable for batters or batters with a delicate structure or containing fragile particles.
"Piston fillers will give you the highest accuracy per cavity or pocket," says Mark Young, sales manager at Hinds-Bock. "They're going to work at the lowest shear and be the sweetest for your products which might include IQF blueberries, delicate chocolate chunks and nuts that you might want to have the highest aspect ratio."
"With gentle porting and pockets in the valves, we can direct dough into various pan networks," he continues, "and with the addition of servo motors, bring them up to modern technology."
Hop to her

Hopper systems, on the other hand, are generally easier to clean than rams and can operate at higher speeds. They are often used for the base of the baked product – the dough or batter that forms it – where precision is not as important as for highly visible decorative touches like sprinkles or icing.
Another propulsion option is to pass the product through nozzles or injectors by upstream equipment. It can be a continuous mixer or a mixer, particularly suitable for aerated products, or a volumetric pump for non-aerated products. It is a common configuration for the mixer or pump to feed a manifold comprising a row of nozzles through the conveyor.
A big advantage of pressure-dependent systems is low product loss, compared to gravity or piston systems, says Robert Peck, vice president of ET Oakes Corp.
"The collector is essentially a passive measuring device. Everything that gets pumped gets pumped," says Peck. "With hoppers and rams, you have to rely on maintaining a level in the hopper. The hopper gets low, you can get varying weights. It doesn't depend on that. It relies on the precision of the push-up to control your weights.
Solid advice

Liquids, of course, aren't the only thing that gets on baked goods. Solids of all kinds are used to supplement them: powdered sugar, nuts, berries, spices like cinnamon, etc.
Placing dry or wet solid ingredients on baked goods requires some sort of dispensing mechanism that can sieve the ingredient and, if necessary, make the dispersion periodic or divide it between sections of the belt. For example, when spot coverage is required, Moline machinery uses a masking system – a polymer bar with small funnels inside that direct the flow of a powder to specific locations or pathways as needed.
In the same way, Axis automation offers distribution shafts suitable for different types of dry ingredients. The shafts are servo-driven rollers that run through the loader, and shafts with different textures and indentations can handle different toppings, like salt, chips, and even whole nuts. (The nuts drop into the shaft pockets; the servo, prompted by a photoelectric sensor, then flips the shaft, depositing the nuts on the product.)
Hitting the target as accurately as possible is of course a goal for all deposit applications. But this is a goal that cannot be achieved 100% of the time, even by the most sophisticated equipment. When ingredients don't go where they're supposed to, they're either wasted or salvaged.
Many systems have recovery capabilities. Axis Automation uses a set of bins under the space between the depositor exit conveyor and the start of the main conveyor segment running downstream. Low viscosity toppings or other ingredients will land on the exit belt and pass through the gap; the bin catches them and transports them up and to the hopper.
This bin can also be used to reload the hopper – a more ergonomic method than carrying loads up to the hopper) Moline allows dry fillings that have fallen into the hopper to be vacuumed in the same way.
Automatic precision

Depositing is an operation that can be greatly improved by automation as it involves a lot of coordination and timing. Many manufacturers use servo motors to dispense ingredients and/or maneuver targeted products; when combined with photoelectric sensors or vision systems, this can dramatically increase accuracy and versatility.
unifill offers both pneumatic and servo-driven options for its piston-driven depositors. Models are available with self-diagnostic capability; the software can tell the owner which part is about to wear out and even present a purchase order for a replacement part.
For an even greater level of control, Unifiller offers Total Care software. Total Care allows control of Unifiller equipment via smartphones or other devices. It also takes internal communication to a new level.
Total Care is implementing a social media-like platform that allows plant personnel to share information related to Unifiller equipment. For example, if the product begins to fall out of specification, the endline worker who notices it can post a picture of the problem via Total Care to upline workers (who can in turn communicate what they think is the problem, share the steps they took to fix it, etc.). Total Care can call up machine specifications, settings, and other information. It can even accept data directly from the machine to show its performance and potential problems in real time.
"We're trying to develop something that people can instinctively use," says Derek Lanoville, R&D director at Unifiller. "The whole thing acts and feels like social media. People are just drawn into it.
Filling and depositing are basic but delicate operations in the production of bakery products. Technologies are available that can help industrial bakers hit the target.